What makes Soul Fuel unique?
At Soul Fuel, we realize today's world has you overwhelmed with marketing messages. While we personally love smart ad targeting, seeing products we may have interest in, presented in creative ways across all devices it can be difficult to unplug and escape this marketing pollution. From sales pitches in your Instagram and Facebook feed, to interruptions in some of your favorite YouTube content, we're aware this can be exhausting and ultimately turn you off to a brand rather than spark interest. We've decided to try something a bit different with Soul Fuel.
Each piece designed your way!
Of course, we'd love if everyone wanted to wear "Soul Fuel" branded apparel embellished with the largest logo possible, but this just isn't realistic. So, we're introducing a donation incentive at three different levels when you buy Soul Fuel branded apparel.
The subtle supporter, simple less obvious.
10% Donation to charity (example below of Soul Fuel Clean Water collar tag 10%)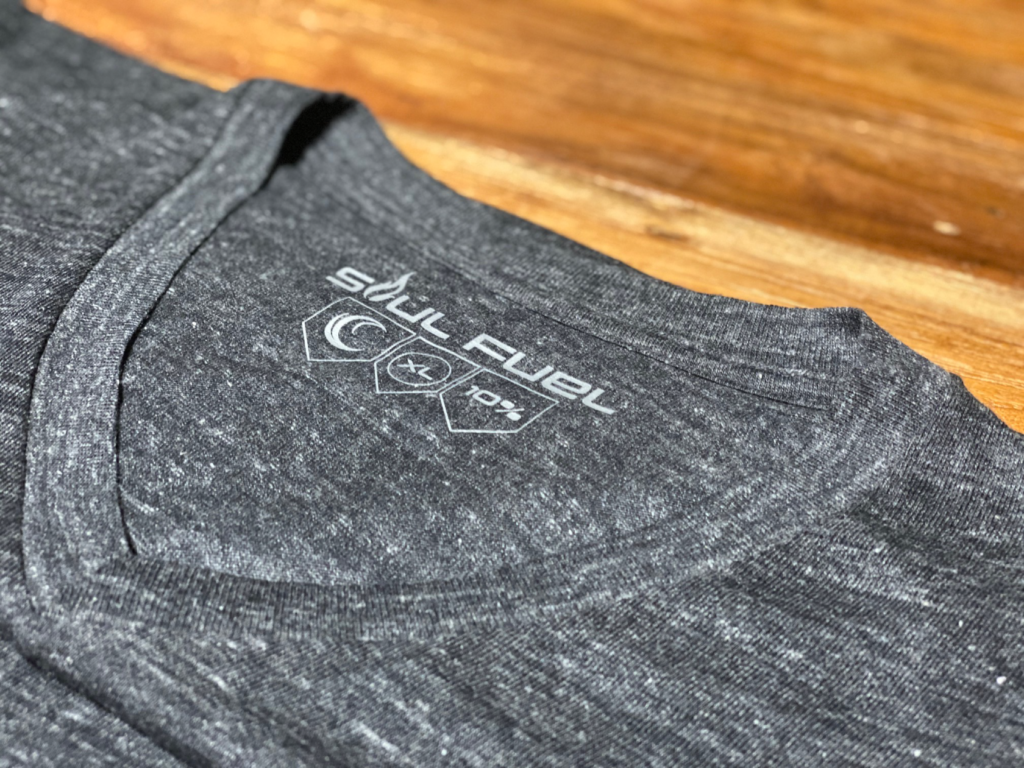 Lightly embellished Soul Fuel apparel, inside collar tag only or when combined with small embroidered cause symbol on exterior of item. For individuals that want to support great causes without walking around with a branding message on their garment.
Modest messenger, your cause & support shown subtly.
15% Donation to charity (example below of Soul Fuel Clean Water Woven Tag)
Embellished garment inside collar tag (Pictured under subtle supporter) combined with woven tag on exterior of garment (example pictured above).
In your face, super fan for our giving brand.
20% Donation to charity (example below)
Our largest in your face "Soul Fuel" logo on the chest, along with collar tag pictured under subtle supporter above.
At Soul Fuel we believe:
"The human soul is on the rise…We're here to help fuel it."
Everyone's journey through life is different. Some come from a more privileged background, while others from one that is much simpler. Some have to forge their own path to success, while others have a clear-cut route. Regardless of where you start and the road you travel on, everyone makes choices that ultimately define their legacy. These defining moments can be the difference between being an outlaw and upholding the law, being an entrepreneur and an integral cog in a larger organizational machine. The Soul Fuel brand is dedicated to life and the idea that, regardless of the path one chooses it is never to late too make a difference. It is never too late to begin redeeming what fuels your soul. We support the things that make people truly feel good, the things that raise awareness, and the things that make everyone stronger both inside and out. We are on a journey to become the source that fuels all of these things and so much more.
Our Mission
At Soul Fuel we use creative marketing and our ever-growing reach to bring ideas, services, products, and concepts that enrich the human soul to consumers across the globe. With a purpose of allocating a large portion of the brands proceeds to charitable causes. From clean water initiatives, woodland rehabilitation & conservation to veteran, children and animal initiatives.
"Big things have small beginnings" T. E. Lawrence
Every contribution no matter how small makes a difference!